For the sixth time in the history of the programs, the fourth time as conference divisional foes, Auburn and Texas A&M will face off this weekend. Auburn makes their second visit to College Station, a college town that
treated Auburn quite well
the last time they visited.
Texas A&M has been a poster-child for adidas over the last few years, wearing multiple alternate uniforms. The latest of which came this weekend when the Aggies wore their new "Aggie Nights" uniforms. Funny enough, they played the game at 11 am. The uniforms were all black with silver stripes reminiscent of their normal uniforms. The big story came with the helmets, which were produced by HydroGraphics, Inc (HGI), the company that produces helmets for Oregon and many other teams. The helmets were specially designed to showcase the aTm logo when it is hit by the flash of a camera. This meant that the logo wasn't visible most of the time.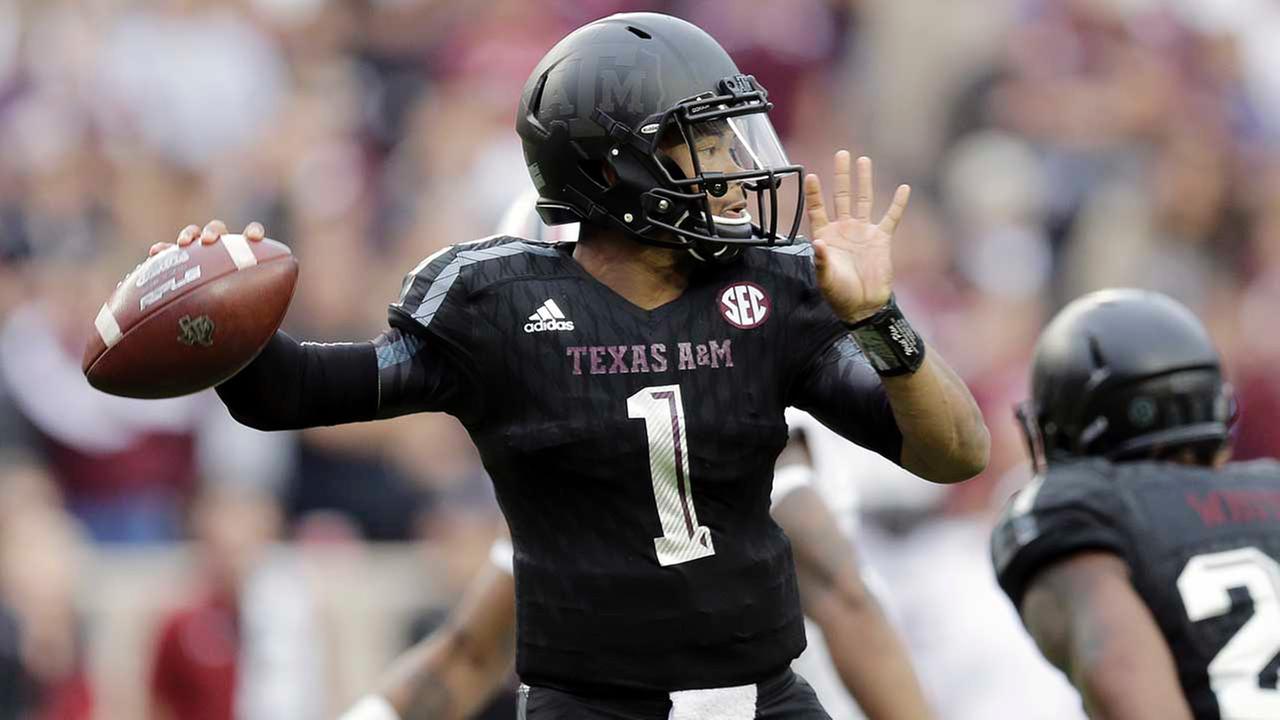 Eric Gay / AP
Texas A&M thankfully hasn't gone too crazy when they've played Auburn. Out of the three conference matchups, two of them were played in Auburn and saw the Aggies go with their maroon helmets, white jerseys, and maroon pants. The 2013 game in College Station saw Texas A&M go maroon/maroon/white.
With the exception of this past weekend's game in which they wore all black, the Aggies have only worn their white pants. They've also only worn their white helmets in two of those games. I'm glad Texas A&M has kept their uniforms so clean and traditional when facing Auburn, but I'd also like to see them mix it up a little bit. I'd love to see the white helmet come out. Although Auburn's all white road uniforms make it difficult to provide some contrasting color throughout the board, I think Texas A&M could pull off going with the white/maroon/white look.
Auburn has only worn white this season twice, and worn the white set of accessories both times. I expect the Tigers to do the same for a third time, but I really want to see these new white uniforms paired with the blue base layers.
Previous Game Review
Ole Miss came to Auburn in their best road look imaginable. The Rebels entered the field Saturday with their traditional navy helmets, new white jerseys with red details, and grey pants with red and blue stripes. The last time they made it to Auburn, Ole Miss went navy-heavy, which didn't work well against an orange and blue team in Auburn.
Joshua McCoy / Ole Miss Athletics