Last year marked the first time Auburn and San Jose State had ever met on the gridiron. For the second straight year, the Spartans travel to Auburn for an early season game.
I took a pretty
detailed look
at San Jose's uniforms last season, so I won't go through that again this week. Through the first month of football, SJSU hasn't done much different in terms of their uniforms, continuing with the same helmet and jerseys they've worn the last few years. The only difference is the new pair of pants the team has worn in every game thus far. Last season, the Spartans had a blue and yellow pair of pants that had
SPARTANS written
down the leg. This season, the team debuted a yellow pair that has some
nice blue and white stripes,
albeit it truncated because of Nike's template.
Isiah Downing, USA Today / sjsuspartans.com
Previous Game Review
Auburn broke out the orange accessories for the first night game of the season, and I have to say I really liked them. The night sky, the extremely bright Megatron/Tigertron, and the uniforms worn by both teams made for a great looking game. The orange helmet stripe reflected the stadium lights pretty well.
Julie Bennett, al.com
Mississippi State broke out their matte maroon helmets for the first time all season. Also, they finally added some TV numbers to the shoulders, something that was supposed to be on the jerseys from the get go.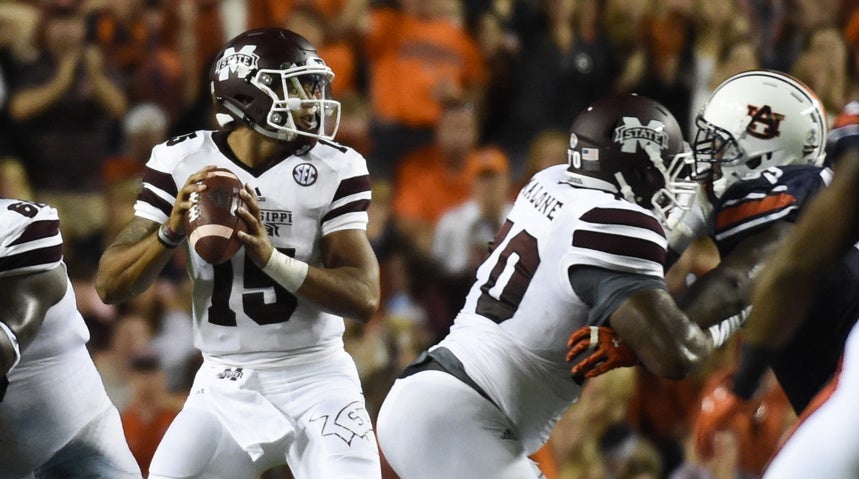 Hopefully Auburn can work out some kinks and get a nice win this weekend.
War Eagle!