It's been just over a month since Auburn played their last football game. Wisconsin played in the B1G Championship game, so they're only three weeks removed from their last game. That leaves these two teams plenty of time to rest up, study enough film to go cross-eyed, and enjoy a good week in Tampa, Fla. to bask in the sunshine. Just as I do every week, let's take a look at the uniforms these two teams will be wearing on New Year's Day.
When you think of classic uniform teams, two teams that come to mind a lot of the time are Auburn and Wisconsin. As little (relatively) as Auburn has changed their uniforms over the years, Wisconsin is no stranger to their own amount of change and alternates. Well before the new age alternate craze sweeping college football, the boys from Madison, Wisc. wore t
hese crazy designs
. In the 2010 season, Wisconsin made it to the Rose Bowl riding an 11-0 record into Pasadena. To conform to a
long forgotten tradition
, Wisconsin added rose details to the
helmet logo
and
numbers
. The 2012 season featured the first adidas-designed alternate uniform for the Badgers. Adidas designed
similar uniforms for each Nebraska and Wisconsin
(funny, since they already look similar enough) to wear when they faced each other. Ever since then, the Badgers have played around with red helmet designs, to counter their traditional white lids. For the last year or two, the Badgers have used two different red helmets. The first new shell they
wore featured white stripes
, basically an inverse of their white helmets. In a later game, they changed it up and added
black stripes to the lids, as well as a black facemask.
The three different helmets they've used
each had a different facemask
, so it's no stretch to believe they can mix and match these. One minor change from this year is the removal of Wisconsin's TV numbers from their jerseys. TV numbers are the shoulder or sleeve numbers on the jerseys, named for the fact that they are easier to read on TV than the chest or back numbers. What is ultimately a minor change, it made a much bigger impact than one would think. From a visual standpoint, it seems to mess with the overall design, leaving a
large empty space on the shoulders.
As Auburn is the designated away team, the Tigers will be wearing white uniforms in back-to-back bowl games for the first time since they wore white in three straight bowl games, the 1984 Liberty, 1985 Citrus and 1986 Cotton bowls. And just as
last year's National Championship game
, Auburn has placed the
bowl patch in an odd position
- underneath the Under Armour logo. Unlike the
National Championship game
, Auburn more than likely won't wear a decal on the back of the helmets. They didn't in the
2010 Outback Bowl
, and teams outside of the BCS/CFB Playoff games typically don't. As normal for bowl games, the players typically get new gear. Auburn already broke out
new gloves
and
new cleats
once this year. Granted that's no reason for them not to break out another set of new gear.
Auburn and Wisconsin have faced each other three times, twice in bowl games (2003 Music City, 2006 Capital One).
The series is tied at 1-1-1, with the tie coming in 1931.
We've already seen Auburn's white jersey with the bowl patches. Oddly enough, the day both teams went to visit Tampa General Hospital,
Auburn's jerseys were patched up, where as Wisconsin's weren't.
I find it hard to believe they won't be wearing a patch, as it's rare to not see a team wear one nowadays. There's still time to get the jerseys patched, but I also don't see why they wouldn't do it back home in Madison with their hometown seamstress. Also noticed from the hospital visit was that the Wisconsin players were
wearing jerseys with TV numbers
. These could easily be old game jerseys the players were given to wear. From Wisconsin's first bowl practice in Tampa showcased the Badgers practicing in their white helmets. Again, this may not mean anything. We'll just have to wait until gameday or until Wisconsin or their equipment managers confirm exactly what they will be wearing.
Also of note is that the Outback Bowl trophy has changed since last year. In year's past, the trophy has featured a solid finish, as though it had been cast (I don't know, I'm no metal/trophy expert). This year's trophy is entirely made of crystals. This new trophy weighs in at 60 pounds and is 22 inches tall.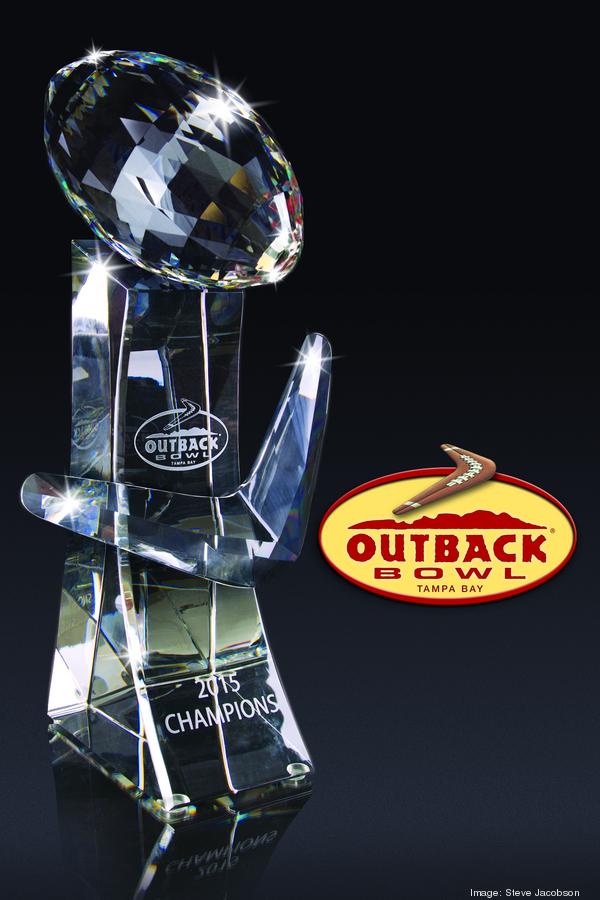 22 pounds of pure crystals await the winner of this year's Outback Bowl
The first football game of the 2015 calendar year is approaching quickly. Players, coaches, equipment staffs and fans all have a lot to get ready before that early morning kick off. Here's to a great game and great start to 2015!
__________________________________________________________________________________________
Random Bowl Uniform Facts
Auburn will be wearing white in back-to-back bowl games for the first time since they wore white in three straight games - 1984 Liberty, 1985 Cotton, and 1986 Citrus Bowls.
Since 1982, Auburn is 18-7-1 in bowl games. The Tigers are 14-4-1 in bowls when they wear blue jerseys, and 4-3 when wearing white jerseys.
Auburn was the first team to play in the same bowl game twice in the same year as they faced Texas Tech on January 1, 1954 in the Gator Bowl, then played against Baylor on December 31, 1954 in the same Gator Bowl.
In the 1954 Gator Bowl against Texas Tech, Auburn wore orange as the Red Raiders wore red.

Assuming Auburn wore orange in the first two bowl games (1937 Bacardi and 1938 Orange), the uniform records in bowl games are as follows.
War Eagle and Happy New Year!