After a long season, and a long bragging rights offseason, the time has come to put everything on the line in the state of Alabama once again. The Iron Bowl is among us. We've been lucky enough to have some great, historic, championship determining games over the past few years. There are plenty of preview posts across the internet breaking down match-ups, odds, betting lines, predictions, whatever. But we do it a little different here.
Auburn and Alabama have always been traditional-minded programs, so there hasn't been much differentiation in uniforms since the 1950s. Or at least to the casual viewer. I've documented the changes in templates for Auburn a lot here and other places over the last year. You can read about that
here
if you're interested. As much as people like to think Alabama hasn't changed at all over the decades, they are dearly mistaken. In 2010, the Tide wore a
Nike ProCombat alternate uniform
, even though it was barely different from their normal uniforms. It's hard to count those as alternates, especially under the ProCombat tagline, when the rest of that line turned out like this -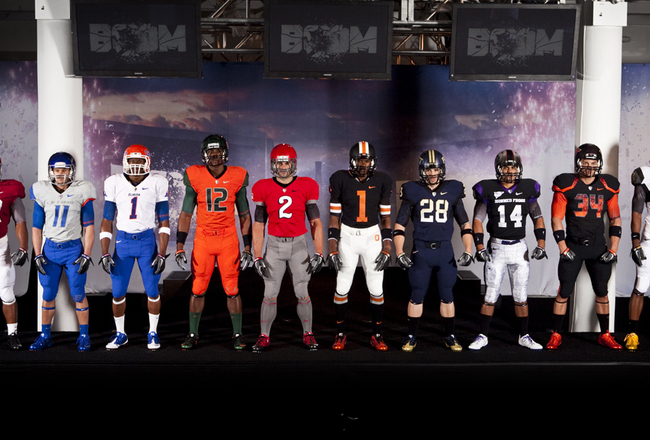 Last year, with the death of long time Athletic Director Mal Moore, Alabama placed a
tribute decal
on the back of their helmets. They are still there today if I'm not mistaken. So, over the past four or five years, they've only had a few changes with their uniforms. That is until this year.
At the end of the 2013 bowl season, Nike rolled out a new
Mach Speed template for the Oregon Ducks
. Nike usually gives Oregon a year or so "trial period" with any new technology, as with the new templates. But at the beginning of the 2014 season, many teams were wearing the new template, Alabama included. (Why someone like Nike would have someone like Alabama model a new uniform change like that is a bit beyond me, but they didn't consult me). The best thing about this new template?
No more sweat boxes
! Well, there are a few "sweat areas" on this one, but they've been moved to the side of the torso and up around the collar bones. The most notable aspect of this template, to me at least, is the
"zipper" effect on the chest
and back. It doesn't look so bad with
double digit numbers,
but
single numbers are a bit odd
with the zipper only going about halfway down some of the numbers.
On the other sideline, the Auburn Tigers will be wearing their white uniforms at Bryant-Denny this weekend, unless something miraculous happens. Hey, can we go
color-on-color again
? Please?!
USC - UCLA
make it look so good! Anyway, I wouldn't expect anything out of the ordinary to happen. The biggest thing to look for with Auburn is, as always, the accessories the Tigers will be wearing. In Athens, we saw a combination of the new blue gloves as well as the older white gloves. Many players wore
blue long sleeves
under their jerseys, as Trovon Reed has continued his practice of wearing a different
color shirt with super baggy sleeves.
I wouldn't expect Auburn and Under Armour to reveal new gear for this game, especially since they did not too long ago. But then again, I wouldn't put it past them.
If there's one thing we know for certain, it'll be that this game will be as hard fought as ever.
Here's to a great game and a wonderful Thanksgiving!
War Eagle!