For the first and only time of the season, Auburn goes up against a fellow Under Armour team in the South Carolina Gamecocks. The Gamecocks enter Jordan-Hare for the first time since 2010 with a 4-3 record, with losses to Texas A&M, Missouri, and Kentucky.
South Carolina switched from Russell Athletics to UnderArmour after the 2006 season. The Gamecocks are currently on their third major uniform design from the guys in Baltimore. The original UA uniforms had the
odd collarbone stripes
. After the 2010 season, they transitioned to a different
collarbone stripe
, one that worked much better. They wore these uniforms for two years before getting a new set with a more
racing stripe feel to them
. They've been wearing these ever since.
Outside of the redesigns, S. Carolina has worn many alternative uniforms. In 2009, the Gamecocks wore their first
Wounded Warrior camo uniforms
. These were so much more tame compared to the other sets they've worn. The 2011 Auburn - S. Carolina game featured what Adam Clement, the Team Sports Creative Director at Under Armour, claimed to be his biggest failure in his career. Listen to
this wonderful Makers of Sport podcast
featuring Clement and his body of work; it's fantastic. The 2011
camo jerseys
featured an
odd camo pattern inside the numbers
, that ultimately blended with the black base of the tops and the Gamecocks were
forced to switch to their normal home tops
prior to the game. The 2012 game versus LSU is probably one of the more discussed game when it comes to these type of uniforms. South Carolina wore
dark grey uniforms
featuring the camo pattern.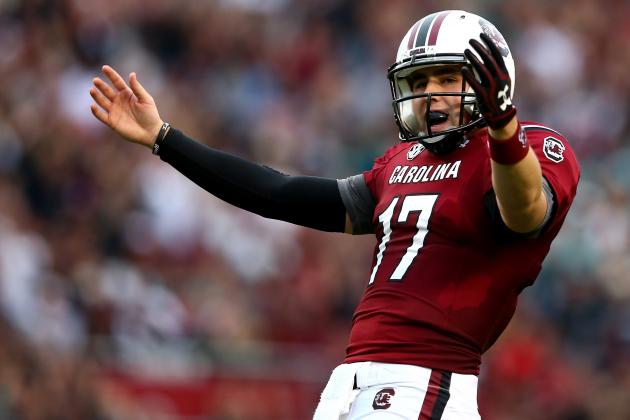 Are you not entertained?
As far as the current uniforms go, South Carolina likes to mix things up a bit. They like to switch between wearing
white-on-garnet
and
all white
for road games. The standard
garnet-on-white
home uniforms are probably their best look. Some home games will see
all garnet
uniform combinations.
As much as I love their current helmet, I would love to see them add their historic
black helmets
back into the arsenal. This
modern representation
looks amazing. Even a
red helmet
would look really nice. And just for giggles, everyone needs a
chrome lid
nowadays.
Right
?
Right?!
Throwback to 1997. Beauties. Copyright Getty Images and Craig James, 1997
As for Auburn, the S. Carolina game is being dubbed the "Wear Blue" game. With other schools, the teams somewhat reflect those "wear a color or something" games. As for Auburn, it'll be interesting to see if they reflect that to a point. Blue helmets and pants would be pretty far fetched at this point. But, the team could wear blue arm sleeves, rather than the
orange
or
white
ones they've already worn this year. Auburn did wear
blue sleeves during the SEC Championship Game
last season, so it wouldn't be new. The biggest thing I'm wondering is if the blue sleeves will be striped or just
plain blue like the orange ones
(small, I know).
It'll be interesting to see what the Gamecocks decide to wear in Auburn. Sadly, I doubt we see a blue-on-garnet game, cause that would be amazing. But the only thing we have to wonder is whether they break out white or garnet pants. They did wear all
white back in 2010
, and we know how that ended.
Should be a great game and can't wait to get back to Jordan-Hare Stadium!
War Eagle!
+Auburn Athletics