Man, Saturday was fun! But this week is a completely different monster. This weekend could top off the greatest two weeks in Mississippi football history. And hopefully Auburn can put a stop to that. Last week, ESPN's College GameDay headed to Oxford for the Ole Miss - Alabama game, marking the iconic show's first trip to Oxford, let alone a game in Mississippi. We all know how that ended up. Down the road in Starkville, Mississippi State defeated Texas A&M, making way for this
awesome newspaper headline
. A week later, GameDay will travel down the road to Starkville, also their first trip to the home of the Bulldogs. Not to mention that #3 MSU will be playing host to #2 Auburn, and that Ole Miss jumped up to #3 as well. Must've been a good week to be in Mississippi.
Two Heisman candidates take to the field Saturday night in Starkville in
the biggest match-up in Auburn - Mississippi state history


Regardless, this weekend's game has potential to look really good aesthetically. Mississippi State has looked pretty good the past two years, ever since they were redesigned by adidas (we'll leave the fact that they are a stripe away from being the exact same as Texas A&M's uniforms out of this). The default uniforms are pretty nice, much better than anything they've worn in the past decade or so. But my favorite part is that their
stripes
come from the
ribbon in their logo
. That's the kind of design element that makes a good look.
Although, Miss State certainly has had their fare share of alternate uniforms since 2012. The Bulldogs have worn a bulldog head helmet off and on since the 2012 "Snow Bowl" versus Texas A&M. That first helmet was, well, snowy. It was an
all white uniform
with white/chrome accents. The
helmet logo was barely noticeable
, more so in the harsh sunlight. That same year Miss State broke out new
gold accented uniforms
for the annual Egg Bowl versus Ole Miss.
The following year, State broke out another
new Bulldog helmet,
this time being featured on their normal matte maroon helmet. These were only worn twice during the 2013 season though. They also wore another gold accent
uniform for the Egg Bowl
, but paired them with a
gold chrome helmet
.
The 2013 game began Auburn's streak of wonderful games. Shame this ending
is forgotten with the Georgia and Alabama games.
This year, which is the 100th Anniversary of Davis Wade Stadium, adidas and Mississippi State revealed a
new uniform to mark the occasion,
throwing back to the uniforms of the
late 1990s
. These were only planned to be worn for the opening game, but the fans and players loved them so much, they decided to keep wearing them. The Bulldogs have already worn these "DWS 100" uniforms three times, defeating LSU and Texas A&M in them. Unfortunately, the pants feature a
giant M logo on one hip,
which really hurts the look. Without that, these are a top uniform easily.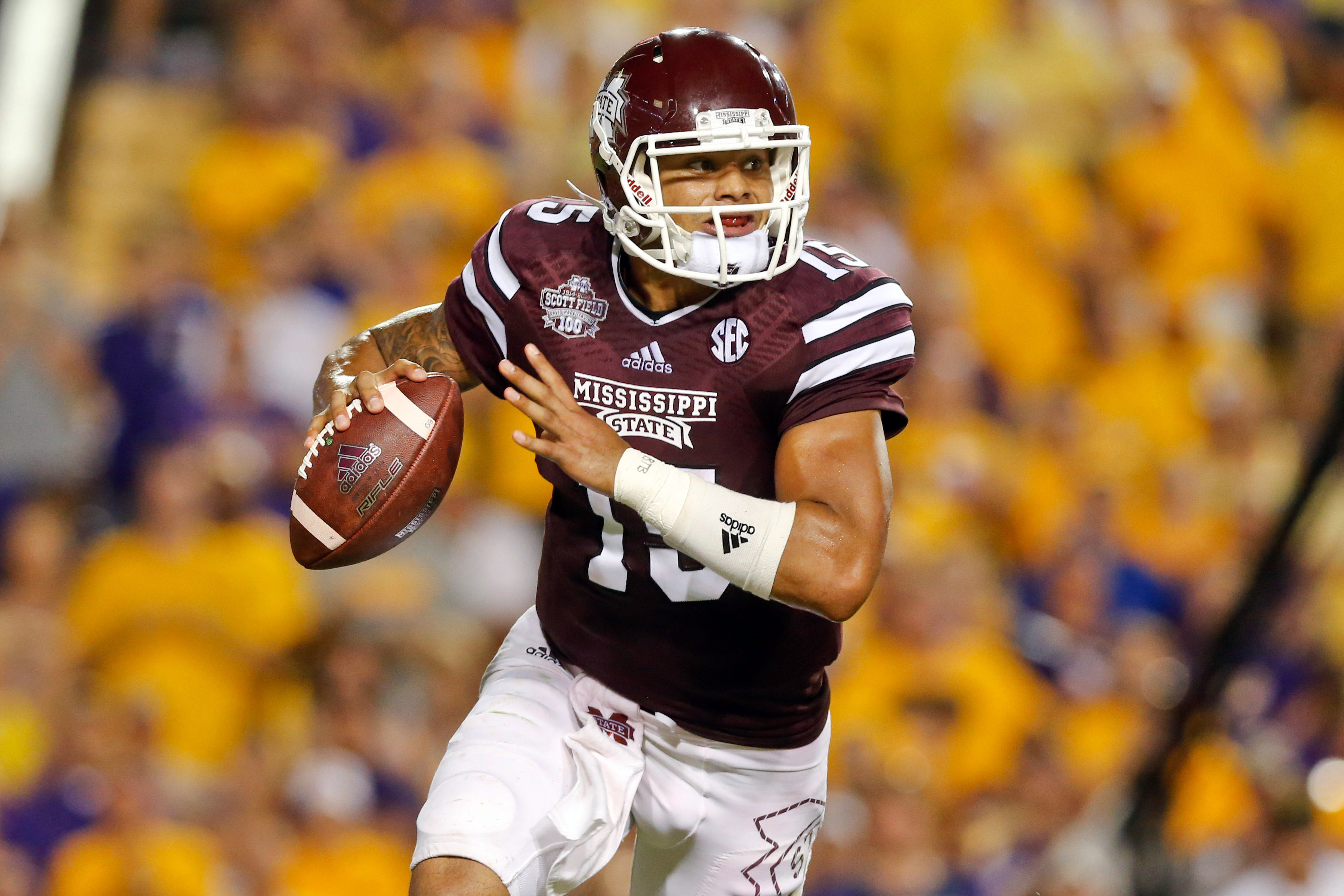 Would love to see these uniforms become the permanent design. Just fix the pants though.
It'll be interesting to see what Miss State breaks out this weekend as they host Auburn. They've already won three times in the throwbacks, and won handily. The two games they wore their base uniforms, they struggled (home versus UAB and at South Alabama). Based off of that alone, I would expect to see the DWS 100 throwback uniforms again, which is alright by me! I wouldn't put it passed adidas to decide to break out some sort of crazy one-off alternate for this big time game as well. Being that this game wasn't a marquee match-up at the beginning of the year, I wouldn't place so much money on that happening. The three stripes company likes to single out all-adidas games for something like that.
Auburn will more than likely be wearing their traditional
white uniforms
for this game, barring some crazy situation. It'll be interesting to see what accessories Auburn breaks out. The lone road game thus far was K-State, and the Tigers wore the
white shooting sleeves
. Saturday night against LSU, and more on this in a bit, Auburn broke out new orange sleeves and gloves. We'll just have to see what happens. I'd prefer an all white look to the orange accents. The orange accessories just look so good with the blue jerseys.
Here's to a good looking game, and more importantly, a helluva match-up!!
LSU Review
After years of frustrating losses, it was fun to woop up on LSU. It was nice to see the offense click on all cylinders, with all the issues they've had getting things going the past few weeks.
The uniform match-up was great as usual. Nothing new on LSU's part, except that they
placed a pink ribbon on the helmets
(which is how it should be done, not with pink gloves, towels, etc...but that's a different story).
Auburn, on the other hand, wore some new orange gloves. The gloves didn't have a noticeable palm pattern, unlike the recent pairs of gloves. Also, new orange sleeves were worn. These were different than the orange sleeves from last year. Last year's sleeves were actually basketball shooting sleeves - they had the elbow padding, as well as the striping on the elbows. These were just plain orange compression sleeves. It was nice to see orange sleeves, since they contrasted better with the blue jerseys than the white sleeves, but I really loved the shooting sleeves with the striping. Also of note, Trovon Reed was wearing a long-sleeved undershirt that featured the BCS Championship patch from last season, which was really odd.
War Eagle!
+Auburn Athletics