It's finally here! The beginning of another season of the greatest sport on earth is just a few days away! Today also brings the return of a very popular segment last year in weekly uniform match-up previews for Auburn and the Tigers' opponents. Every week prior to an Auburn football, a piece similar to this one will run with a short preview and history of Auburn's opponent's uniforms. It's different from all these other game preview posts, which has helped in its popularity. So, enough of my rambling, let's get to week one!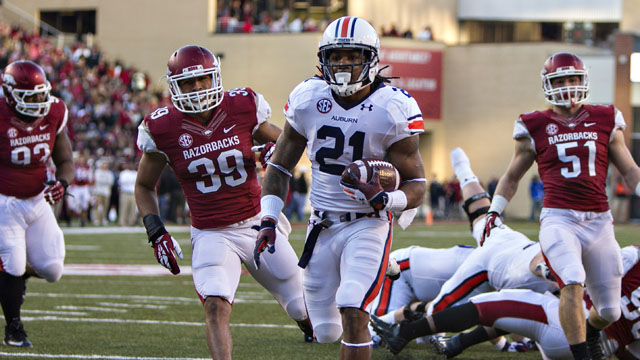 espn.com
The season opener for Auburn this year is also the conference opener, with the Arkansas
BERTS
Razorbacks coming to town. Auburn hasn't opened the season versus a conference opponent since 1995 when #6 Auburn defeated Ole Miss 46-13 in Jordan-Hare Stadium.
Over the off-season, Arkansas and Nike released a
new set of uniforms
to replace the "razorblade" shoulder design. These new uniforms are much cleaner and include a razorback tusk design on the shoulders. As part of the new Nike templates, there's a triangular insert on the chest. According to Nike, these are to represent the tusks of a razorback (funny, because
Washington has the same design
meant to represent the overhang of their stadium. Nice job Nike). Arkansas also introduced a
new front-facing hog logo,
which many people (me included) seems to
imitate Pumba from The Lion King
The good news for me is that I don't have to worry about speculating what Arkansas will wear because they already revealed their uniforms. Arkansas will be wearing their new all white uniforms for possibly the hottest game of the season.
It would've been nice to have seen Arkansas break out either the red helmets or pants, simply to contrast against Auburn's white helmets and pants. Regardless, it'll be a pretty good looking match-up.
The Razorbacks actually broke in their new white lids last week in preparation for the season opener.
All white everything. #WPS pic.twitter.com/QqPNep26vx
— Jake Nevill (@jakenevill) August 22, 2014
No worries for you traditional Auburn fans. There doesn't seem to be any reason to believe a new uniform or helmet or anything will be revealed this weekend. As for later weeks, we'll just have to wait and see. Even though I highly doubt we'll see anything.
The wait is almost over. I will see you guys in the stadium come Saturday! If you happen to see me, please stop by and say hi. You won't be able to miss me with my
authentic jersey and stirrups
...
Be sure to check back weekly for more uniform previews. I also have a few other projects are tap that will be posted in the next few weeks!
War Eagle!
+Auburn Athletics